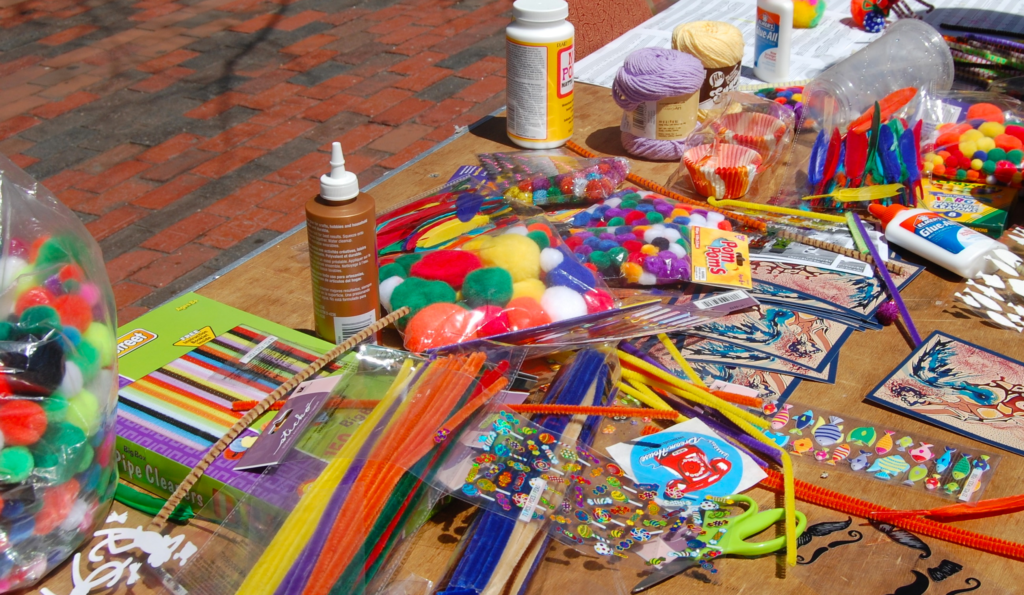 Tech Dad
by James Floyd Kelly
While I work and write about technology, I do try my best to take time away from it. I've written before about getting my boys away from their screens, and I've had some very positive feedback from readers regarding the need for non-digital activities.
Well, let me offer up another little suggestion for those times when a child needs a break from the computer… the tablet… the phone… the TV. This idea is something my mother introduced to me decades ago (but with a few of my own little upgrades). My mom and dad are both hands-on-crafter-maker-fixer-uppers, and I never had a chance to avoid the DIY bug. For those times when I uttered the "I'm bored" phrase or got in trouble and needed some quiet time, my mom would open up her crafting closet, pull out a handful of items such as felt, string, scissors, glue, and other odds-and-ends, and tell me to get to work making something. Sometimes it was easy – "Make me something to hang on the fridge." Other times, it was difficult – "Make your dad something to help him find his keys."
I learned quickly that fast meant going back and doing it again. Mom wanted me to think out a solution before doing any cutting or gluing. If my creation looked like I wasn't taking the project seriously… I was sent back to start all over. (My dad did the same thing with my science projects and other special tasks, giving me access to some of the tools in his workshop to try it myself FIRST. Then he'd help where my skills were lacking… or where I could start a fire or irritate a neighbor.)
Jump forward some years, and I've got two boys of my own who amazingly get into trouble as well as occasionally utter, "I'm bored" within earshot. My solution is similar to my mom's, but mine is portable and I've got two of them… one in each boy's closet, ready to go.
I'm going to tell you how to recreate it. The solution starts with a simple 5-gallon bucket. Home Depot sells them for less than $4.00. It's got to have a handle! While you're there, buy a pack of paint stir sticks, too.
Get your bucket and your child and then head to Michael's or Hobby Lobby or wherever you prefer to buy craft materials. For my buckets, I went to Hobby Lobby. Take your child and your bucket inside the store and show it to one of the employees and tell them you're here to "fill it up."
Go crazy. Start with felt and glue and tape and pipe cleaners. Toss in a pair of scissors (get an adult pair if you think they can handle it) and a bag of Popsicle sticks. Find a small package of acrylic paints (black and white paints are a requirement, and then get as many primary colors as you can) and a cheap bag of paintbrushes in various sizes and bristle shapes. Find some wiggly eyes, a bunch of beads, a ball of string and a spool of thread or two, some foam sheets (8.5×11 or larger) in a dozen colors, and some clothespins (the old-school-style and the more common variety).
Push all this down and make more room in your bucket. Trust me, this stuff isn't going to break.
Grab some tiny cardboard boxes, some markers, a ruler, and some pushpins. If space permits, you might consider dropping in some chalk, a bag of glass beads, some fishing line, and a roll of duct tape.
I know… it's a lot of stuff. And the bill is probably going to hover around $50-100 or more. But I promise you that it's totally worth it, and you'll get dozens and dozens of hours worth of free babysitting if you put a child to work creating something with the supplies they've just helped you collect in the bucket.
Final bits of advice: (1) Don't always make the bucket a punishment. The bucket is meant to put a child's brain to work and be fun (eventually). (2) Keep the bucket filled when it gets low, and you'll always have a response for "I'm bored." (3) Don't expect perfection, but do show appreciation.